WSJ Wine Club stands out as a good option if you're seeking fine and interesting wines that have received high ratings from critics. With a great introduction offer and two quarterly clubs that offer exceptional labels, this is the best wine club if you like the finer things in life.
WSJ Club Overview
WSJ Wine Club is affiliated with the Wall Street Journal and has the distinction of being one of the first 12-bottle delivery services. Since its launch in 2008, its aim has been to make excellent wines affordable through bulk shipments.
Check Out Our WSJ Wine Video Review
What is WSJ Wine Club?
WSJ Wine Club is an operation that succeeds in combining a high-standard of wine with relatively pocket-friendly prices. How it manages to do this is thanks to the network of top-grade suppliers it's built up since it opened its doors in 2008. The club is linked to the Wall Street Journal newspaper so has a reputation to uphold and does so with the consistently high-quality wines it delivers in its two clubs.
How Does WSJ Club work?
The club has two membership plans that are tailored to refined tastes. When you start out with the club, you take advantage of a great-value introductory welcome shipment that comprises 12 bottles of wine plus a complimentary gift all for $69.99. This gives you the chance to get a taste of the standard of wine you can expect going forward. After this, you can choose from two wine clubs, both of which deliver every quarter. The Discovery Club features 12 labels for $159.99 and you decide if you'd like red, white, or a mixed case. If you want to go up a notch, The Premier Club features a dozen bottles of exclusive and often limited-edition wines for $259.99. Shipping is $19.99 additional for each club, and you can change a delivery date with reasonable flexibility. The club also offers a 100% satisfaction guarantee.
How Much Does WSJ Club Cost?
Our Rating 5/5
WSJ clocks in at more costly than many wine clubs but it's really worth it. The wines are handpicked and top-notch so I score it 5 for price.
The introductory offer costs $69.99 for 12 bottles and a free wine gift. Afterward, you can sign up to the Discovery Club which costs $159.99 for a bottle count of 12 90-point + wines every three months or the Premiere Club which also features a dozen bottles with 94 + ratings shipped every quarter for $259.99. Shipping is an added $19.99.
About the Wine
Our Rating 5/5
The wine at WSJ includes award winners and top rated labels from renowned critics plus it comes from all the main international wine regions. Quality is very high so I'm giving it a 5.
The quality and variety of wines at WSJ Wine Club have a reputation for being exceptional with many limited edition, award winners, and critics' picks included in your shipments. The club prides itself on its high standard. The following give an idea of the kinds of labels you can expect with each plan:
Forbes Creek is a California winery that has holdings in some of the state's most prestigious AVAs in Napa and Sonoma Coast. It produces fine Pinot Noir and exceptional Cabernet Sauvignon.
Angelo Maci is an exciting Italian winemaker whose winery Cantine Due Palme has twice won the "Winery of the Year" award. He crafts heady, rich reds out of Puglia with local grape Primitivo and Cabernet Sauvignon.
Aluado is an award-winning winery in Lisbon Portugal that wines from local and international grapes. A firm favorite is its Alicante Bouschet, a rich red wine made from the name-sake grape that's unusual in that its flesh as well as its skin is red!
Collezione di Paolo Chianti is the name behind Paolo Massi's exceptional family estate wines in Tuscany, Italy. Made from Sangiovese, the area's Rufina holdings produce some of the best quality Chiantis going.
Another Napa legend, Raymond is a firm favorite among wine critics with its Cabernet Sauvignon garnering top marks again and again. The winery works closely with WSJ on limited-edition wines for members.
WSJ Club Benefits

Our Rating 5/5
WSJ has an exceptional array of top-tier wines plus a 100% satisfaction guarantee, complimentary gifts, and easy cancelation. I give it 5.
The stand-out benefit of having a WSJ Wine Club plan is the reliable quality of its wines across both of its memberships. There are also complimentary gifts, great customer service, and its satisfaction guarantee.
Benefit 1
The club has a 100% satisfaction guarantee ensuring that you get made whole if you don't enjoy a label in your shipment. Just contact the club and detail the problem with the wine and it will go the extra mile to compensate you.
Benefit 2
Members can contact WSJ Wine Club in several ways. There's live chat via the website plus you there's an email option. They even offer a postal address if you prefer that. You can contact the club for any queries about memberships in general or your subscription in particular.
Benefit 3
This club is generous with complimentary wine gifts. Subscribers to the Discovery Wine Club can expect the likes of gift wine plus wine glasses when they join the club. Premier Wine Club members bag gifts like free premium wines along with their regular dozen.
Benefit 4
If you want to cancel your plan, there's no penalty, small print, or hidden charge. You simply contact the customer service team about the change in plans. It'll want to know why and suggest ways of making membership work for you but won't push it if you really want to cancel.
Benefit 5
Know a friend or family member who'd enjoy WSJ Wine Club membership as much as you do? You can easily buy a gift subscription via your personal account. You simply add your recipient's address and pay at check out with a "Gift Option".
WSJ Club Membership Programs
There are two top-notch plans, both of which ship every three months. The first is the Discovery Wine Club which features 12 bottles of wine at $159.99 and the Premier Wine Club which also has a dozen bottles at $259.99. Both offer fine quality, but Premiere is a notch up. Shipping is added at $19.99 per delivery. You get to rate your wines for future tailored shipments.
WSJ Club Membership Length
When you sign up to the WSJ Wine Club, you aren't locked into any minimum contract length and can cancel your plan at any time. This offers peace of mind, making the features of your plan more enjoyable.
Can I Give WSJ Club Membership as A Gift?

Our Rating 5/5
You can give wither of the WSJ plans as a gift membership and do so from your personal account. The ease and choice garners it a 5
You can give a loved one a gift membership of either of the WSJ Wine Club plans. To make things easy, you can purchase a gift plan via your personal account so have the freedom to do so when inspiration strikes! Simply pay with a "Gift Option".
WSJ Club Packaging
Our Rating 5/5
It's another 5 from me. Wines are well packed, you can expect the occasional complimentary wine accessory, and there's material about your wines.
There is no special information about the packaging that WSJ Wine Club uses although you can expect complimentary wine gifts in your first shipments.
Price and Shipping

Our Rating 4/5
WSJ shipping is more than for most clubs plus you can skip a month but the particulars don't offer the flexibility found elsewhere. It's a 4.
The cost of shipping is $19.99 per delivery. This applies to both the Discovery Wine Club and the Premier Wine Club. Shipments arrive between five and 18 days after processing depending on where you live, and the club uses reputable carriers like FedEx. You have the freedom of changing a delivery date by a few days if necessary.
Skip A Month
WSJ Wine Club does offer its subscribers the option of skipping a shipment but it's worth noting that this isn't as casual and indefinite as with some clubs. You can put off a delivery but only for up to four weeks. You don't need to offer a reason for doing so.
Customer Service and contact availability
Our Rating 5/5
It's hard to find any complaints about service for WSJ. It has a handy choice of contact methods and wine savvy advisers so I'm giving it 5.
The club website has a live chat function during extended office hours. You can also get in touch via email or even standard mail if that suits you more.
Cancellation terms
Our Rating 5/5
You're free to cancel your WSJ when it suits you without any penalty so it's a 5.
You're free to cancel your WSJ Wine Club membership whenever you want and there's no penalty because there's no minimum contract length. Your cancellation will come into effect for unprocessed orders. Get in touch with customer service to inform them of your wish to cancel and it'll facilitate the procedure.
Disadvantages
It's hard to pinpoint disadvantages to being a member of the WSJ Wine Club. True, it only offers one shipping frequency every three months, but you get a dozen exceptional wines each time to sip slowly until the next delivery. It's a tad more expensive than other clubs but it has unbelievably good value for money labels considering what you get for your subscription fee. You also get to pick your wines beyond opting for red, white, or mixed, and rate them. On the whole, even the apparent 'downs' work out as being 'pluses' with this club.
Differences from the competitors
WSJ Wine Club differs from other clubs like Firstleaf and Bright Cellars in that, when you sign up, it doesn't use tasting technology to get an idea of your preferences. However, this hardly seems to matter since its wines are reliably from top notch producers and highly rated by critics and judges! It also offers fewer shipping frequencies than the likes of Plonk, another niche wine club that is more expensive than the norm. Finally, it's affiliated to a renowned financial newspaper so the image and standards of that brand rub off on it (for better or for worse depending on what you like to read!) while most other clubs are independent entities.
FirstLeaf Order Process Step by Step
1. Here we are again with another deep dive into a great wine club. Let's go!
2.This week we're taking a look at the WSJ Club otherwise known as the Wall Street Journal wine club. This is one of the biggest shipments I've received so I'm excited! Let's go back to the beginning and find out everything this leading club has to offer!

3. OK, I'm on the homepage of the WSJ website and checking out what I can expect. It's a little bit pricier and definitely for the sophisticated palate but you do get to try it out with an amazing introductory offer to see if it's for you. For only $69.99 plus around $20 shipping, you get 12 top wines plus a wine glass gift. There are also tasting and serving notes on every wine. Looks pretty good.

4. You get a choice of all red, all white, or mixed plus two bonus bottles and a couple of stemless Dartington glasses for your favorite wines. This is one of the best introductory offers I've seen and can hardly wait to dive in.

5. The WSJ Club has two subscriptions. One's the Discovery Club and the second is the Premiere Club. Both feature top-tier wines from large and artisanal producers found all over the world. They've all been vetted by wine critics and experts so you're really getting first-class wines in each shipment. I'm trying the intro shipment to the Discovery Club. After the offer is over, this club has some great features. Each time, you get 12 sommelier-picked wines with a 20% saving plus rewards and upgrades that make your dollar go further. All this for only £159.99 plus $19.99 shipping every three months.

6. This is what I like to see. I can cancel any time plus there's a 100% satisfaction guarantee. I like it when clubs offer this because it makes you want to give it a try when you're not getting involved in contracts that are hard to get out of. Looks good so far!

7. Here we have details about one of the bonus bottles – an Alicante Bouschet from Portugal. It looks like quite a serous red! So I'm getting a mix of 12 reds and whites, two gift glasses, and two bonus bottles. The ordering process is really simple. You just put in all your delivery and payment details and you're good to go.

8. Here it's giving me the estimated delivery. It's a little bit longer than other clubs but not bad. The final cost is $69.99 plus tax and shipping, so the total cost is $96.28. With the introductory offer I've saved $204.86. Pretty good! The only downside is WSJ picks the wines and you can't swap them out, but the upside is, they're all excellent wines so you're in good hands.

9. Fast forward and my wines have arrived. Let's check it out! It's not the prettiest box but it's huge and packaged well. It's full of info on the wines. There's info on storage and decanting plus an overview of the most popular grapes and wine club deals!

10. This is going to be fun! There are 14 bottles in here including limited-editions from France plus top wines from California. First out is a white blend from France with Chardonnay and Vermentino.

11. Take a look at this! Two complimentary crystal Dartington glasses! I'm going to use these for my tasting!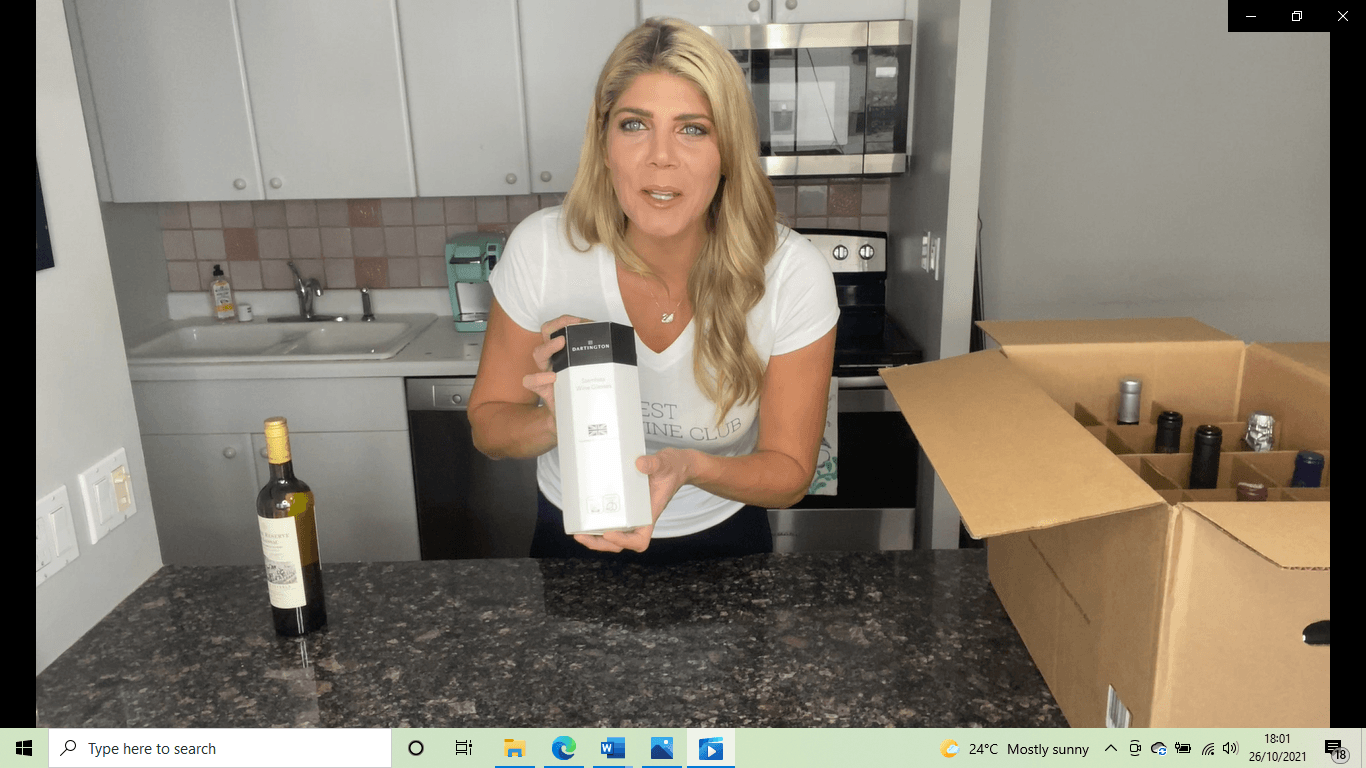 12. Here's an Australian Shiraz!

13. This is one of my favorite Napa wineries – Raymond! I love visiting this place and love their wine!

14. Here's that Portuguese wine that was featured when I ordered. Looks gorgeous! There's a great range of countries and varietals. Let's try a few out!

15. I can't resist the Raymond! It has deep red plum and mocha and it's just a really good California Cabernet. I just love this.

16. They're all pretty amazing wines and I have more to taste. Be sure to sign up and check out the WSJ Wine Club. It's a little bit of extra money but the standard of wine makes it worth it. There's an amazing welcome offer – as you can see - and there are two different memberships for different pockets. I highly recommend this club for quality and variety so take a look for yourself. Cheers!

Our Opinion
We rate the WSJ Wine Club highly. Although it doesn't have all the bells and whistles that clubs like Winc have in terms of nifty questionnaires that delve into your preferences, it does offer what every wine lover is looking for in a club: great quality, interesting wine at amazing prices. It has good customer service, a generous introductory offer and freebies for first orders, plus two carefully focused clubs that leave you in no doubt about what you can expect – an excellent standard of reds and whites that you get to pick and choose from. You can also share the joy with gift plans plus you're free to opt out whenever you want with no penalty. Big gold star from us!